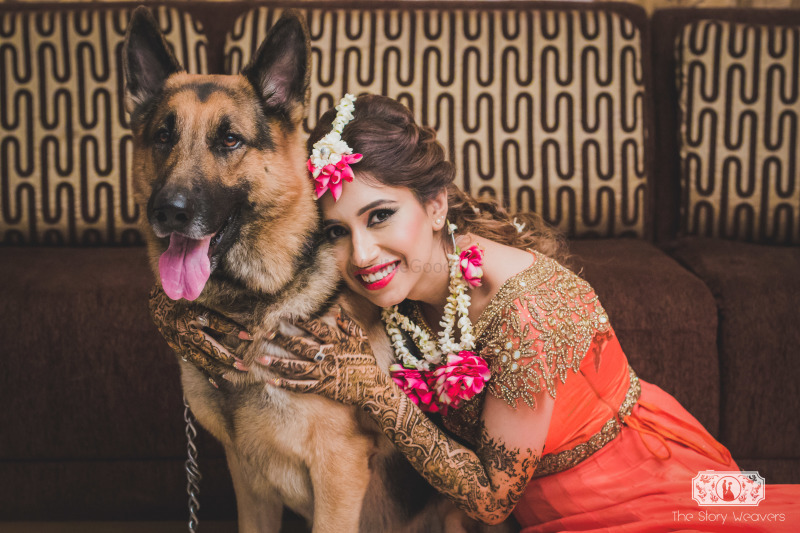 5 WAYS TO INCLUDE YOUR PET IN WEDDING | STYL-INC-Stylblog!
"5 Ways to include your pet in your wedding." A dog is the one thing on earth that loves you more than you love yourself. We know there are a lot of puppy loving couples out there.
Weddings are all about coming together with families and friends. Making merry and having fun is the ultimate goal. But amidst all the madness of the gala celebration, you might forget about the attention the most important member of the family deserves.
Yes, we are talking about your beloved little pet. Styl.Inc brings to you some awesome ways to include your pet in the wedding.
1. Use him/her for the Surprise Proposal.
No one says no to puppy dog eyes and we are sure that your fiancé will melt with love. A "Yes" is definitely on your way if you use your pet for the proposal. We do have some real couples practising the same.
2. Include them in your Engagement Photos.
A pre-wedding photoshoot is a glimpse of your bursting love for your partner. A symbol of pure love and warmth. Your pet will add so many colours to you pre-wedding photoshoot. Check out some photos of couples who did.
3. Or in your Wedding Photos
If the pre-wedding photos aren't enough to show your love then how can you forget him/her on the most important day. The wedding. Having the reason for your happiness around you on the happiest day of your life is everything. We've got proofs.
4. Guest of Honor for all the Ceremonies.
From Sagan to Mehendi to Shaadi let the guest of honour grace your wedding ceremonies with their presence. Making the functions so much fun and uncanny.
5.Coordinate with them
It's important for the pictures to be fun and attractive. Make sure you coordinate a little with your pet (if it's feasible) to have a lot of edgy pictures. Along with all this make sure you take a trip to the grooming parlour to make him/her look shaadi ready. Giving a heads up to the guest would also be great so that there aren't any uncomfortable moments at the wedding.
For more about weddings, styling and travel head to STYL-INC
Till then keep it styl-ish
Signing off
Aarshiya Gautam